During anaesthesia, capnography provides a rapid and reliable method of detecting life-threatening conditions that affect ventilation and perfusion.
Changes in the shape, height and baseline of the capnograph waveform can supply us with information on both the equipment being used and on the health status of our patients.
Although the device is easy to use, an understanding of the principles of capnography and how the equipment works is necessary to be able to interpret the information that it provides.
The aim of this webinar is to help you understand how, why and what the capnograph is telling you.
Why Mind?
After suffering with post-natal depression, living with a mental health problem can often have an impact on day to day life, making things that others might not think about a bit more difficult.
When you are living with a mental health problem or supporting someone who is, having access to the right information is vital.
Mind is working to make sure nobody has to face a mental health problem alone. People need their support more than ever, and the demand of their services is growing especially during this moment in time with Covid19.
Your donation (100% of your £5) will help them give someone a way forward.
Don't just take our word for it...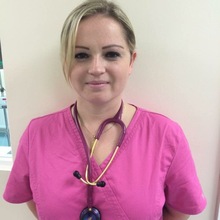 RVN NCert A & CC
Zara Livingstone
Zara Livingstone RVN NCert A & CC Qualified as a Veterinary Nurse in 2009 at a first opinion practice in the UK before moving on to referral work in Ophthalmology a few weeks after I qualified. During my six years in Ophthalmology my interest in Anaesthesia developed so I went on to achieve my Nurses Certificate In Anaesthesia & Critical Care. I joined Lumbry Park Veterinary Specialists in 2015 as a member of the theatre team and clinical coach.